Free to the Public!! The Inaugural Roswell Motoring Festival March 28th at City Hall Complex. Guests will see over 150 rarely seen Motorcars, Motorcycles and more. Military Color Guard and special guest performances. From The Earth Brewery Beer Garden, local restaurants and a variety of vendors both Automotive and Art.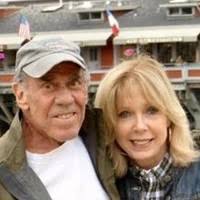 Please join us as we celebrate
Gene Felton
and his legendary racing career and honor him as
Grand Marshal
.
For Gene , seen here with his bride Lynda, it all started as a boy. He would sneak into the Lakewood Speedway to see the stars of NASCAR wheel-twisting their American iron at breakneck speeds on the mile oval that circled Atlanta's old reservoir. "I used to walk in through a storm sewer pipe that was near the entrance on Pryor Road," said Felton of his visits to the dirt track in the 1950's to watch the likes of Junior Johnson, Lee Petty and Curtis Turner. By time Felton was finished with his professional career, no driver had won more major races or more consecutive championships while driving American cars on U.S. road circuits than the man from Atlanta.
Brought to you by  The Atlanta Motoring Festival! Dedicated to promoting and preserving the art of the automobile. and benefits St. Jude Children's Research Hospital. Our goal will always be to put on a world class automotive event that honors our heroes, the cars they loved an often raced while supporting environmental issues and to contribute to worthy charities of North Georgia. We hope that The Inaugural event  will exceed your expectations.


St. Jude Children's Research Hospital  is Leading the way the world understands, treats and defeats childhood cancer and other life-threatening diseases. The mission of St. Jude Children's Research Hospital is to advance cures, and means of prevention, for pediatric catastrophic diseases through research and treatment. Consistent with the vision of founder Danny Thomas, no child is denied treatment based on race, religion or a family's ability to pay. To donate or get information, visit www.StJude.org.
~ Pualani and Philip Carroll – Founders