Registered Guests 150 Goal
---
SPACES ARE LIMITED
Registrants can expect a thank you bag including dash plaque and other surprises.
Receive a free a chance to have lunch on us for you and your guest at a local restaurant and more. Check our website frequently for  updates. 
Online registration will close at noon on Thursday October 5th.  All invoices must be paid no later than noon on Thursday October 5th.  Any requests for registration that have not been paid by noon on Friday will result in the vehicle not being registered in addition to no printed dash plaque and giveaways
There will be limited spaces available for day of event registration.  These spaces will be first come first serve.
Artists! We are so excited to have you submit an application to be a part of the ROSWELL MOTORING FESTIVAL! Booth fees are $20 and include a 10 x 10 space , no power is provided. Please submit your name, email address, and a picture of your work! We look forward to having you be a part of our wonderful show this year! 
It is a rain or shine event.
SHOW TIME 10:00 AM to 3:00 PM
Here's our Site Plan - Subject to Change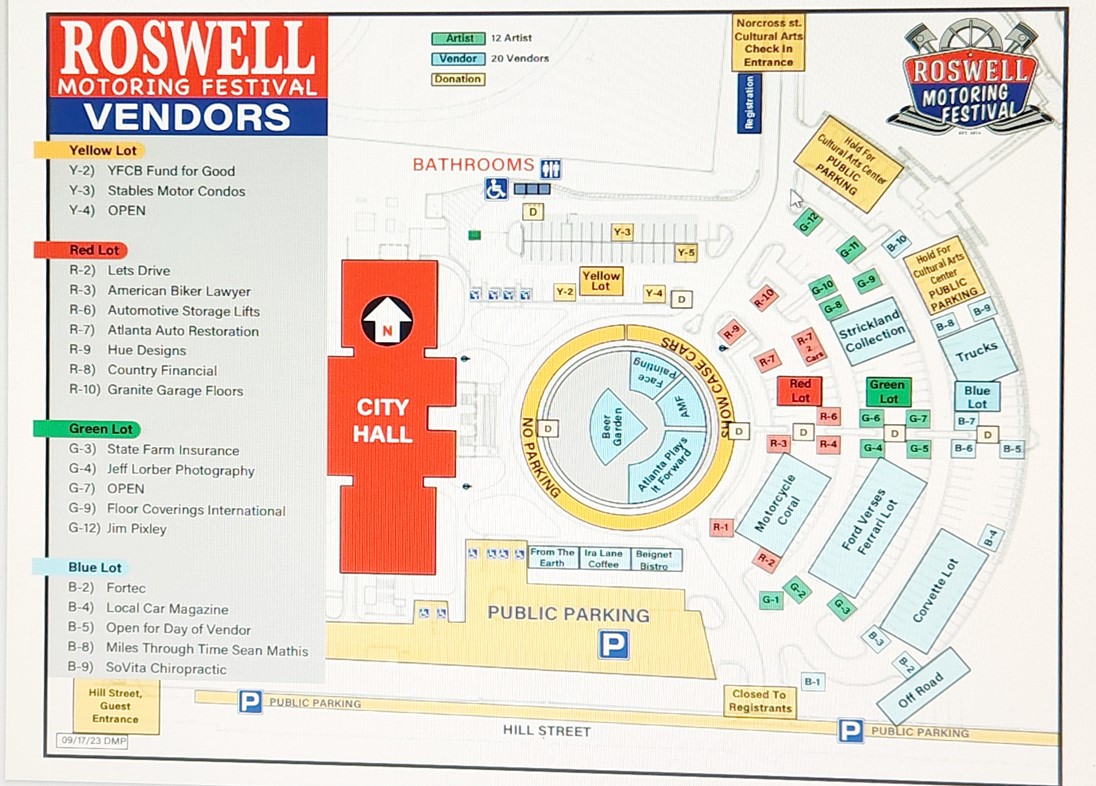 OFFICIAL RULES and WAIVERS
No "For Sale" signs in the main show area.  Participants also state that their vehicle is insured and complies with the Motor Vehicle Laws of the State of Georgia where applicable. 
Parking: There will be parking onsite and on nearby to specified trailer parking for cars being hauled in.